Executive MBAs visit Doi Tung Development Project (October 29 - 31, 2010) (30 Nov 10)
"We must all have a common goal towards which we work – not just for a 'boss' — as the local people here at Doi Tung do not work for just Khun Chai, but rather for something they believe in just as Khun Chai does…something that will have a far-reaching positive impact for the greater community."

Dr. Kedsophon Chatwattanakul: Director, Rutrin Hospital and MBA group member
During October 29 – 31, 2010, a group of 32 Executive MBA students and 5 professors from Chulalongkorn University traveled to Doi Tung to learn about Sustainable Development. These MBA students comprises executive level managers from various sectors including manufacturing, service/hospitality, food and beverage, medical, training, and supply chain management, as well as private entities. Through visiting various sites at Doi Tung and the Pang Mahan Reforestation Project, the students were in effect able to see the three stages of development – namely "survival", "sufficiency", and "sustainability" – which DTDP has helped them to achieve through its projects.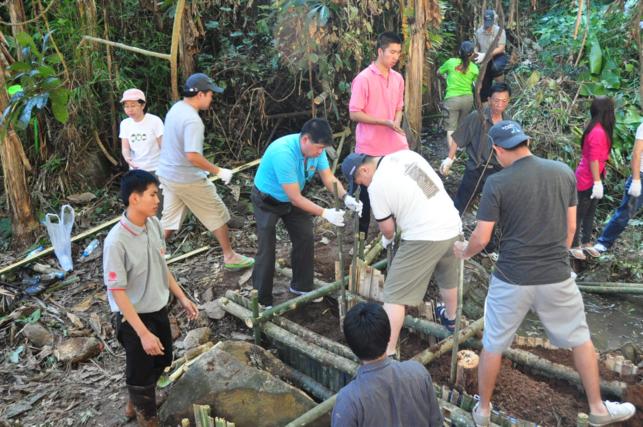 This program was designed specifically as part of "Living University" to allow the students to speak to and learn from the villagers and local practitioners – to see for themselves how DTDP has effectively adopted a "people-centric" approach and how positive change and sustainable development can be affected at the grassroots level. For many in this group, this was an initial exposure to "development" in its full implementation.
Along with site visits, the students attended lectures and workshops to exchange opinions and crystallize lessons learned from the trip. M.L. Dispanadda Diskul, Chief Development Officer of DTDP, also shared how the "development" models have been adapted and effectively implemented in other project sites both in Thailand and internationally in Afghanistan, Indonesia, and Myanmar, emphasizing the importance of applying "lessons learned" while at the same time learning from the communities that the projects will serve.
The students also had the opportunity to meet with M.R. Disnadda Diskul, Secretary General of Mae Fah Luang Foundation, who stressed that one success factor of development projects – just as is the case with other entities – is skillful management. Therefore, this visit by this Executive MBA class at Chulalongkorn University represents how the private sector and the business community can play a role in influencing and progressing rural development in Thailand. It is hoped that seeing the work at DTDP firsthand has not only provided a greater awareness and understanding of "development in practice", but that it will also inspire people to adopt and take on this perspective in their respective fields.